COLINS' BUSINESS ARCHIVE
He owned and operated a specialist driving school at Goodwood Motor Circuit !!
| | | | | | | |
| --- | --- | --- | --- | --- | --- | --- |
| | | | | | | |
| | HOME | TUITION | COPPICE GROUP | LINKS PAGE | ANNUAL LR EVENT | |
| | A good place to start your journey thru' this site. | Dates available throughout the year on use of the polelathe and associated tools | Part of the Greenwood Worker Group at Amberley museum | Some interesting links. Not all related to wood! | An annual Classic Land Rover Event at Amberley Museum | |
| | | | | | | |
| | | ARCHIVE | PHOTOS | VIDEOS | | |
| | | Photos of the GWW archive material | Photos of previous days and shows attended plus greenwood village | Training videos and you tube links. | | |
SKID CONTROL
ARCHIVE
SKID CONTROL Est Winter 1979/80
Some history from the skid control photo album
In jest!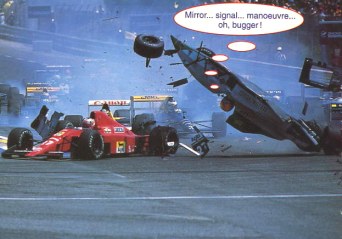 Taken from a post card... circa 1998
You might not drive a formula one car
but driver training could certainly improve your chances of keeping out of trouble
A BRIEF HISTORY
of
Skid control and the principal Colin D Wells. As originally based in Southern England nr Chichester
Skid Control had been operating out of Goodwood. It was started up by Colin Wells who was already involved in motor sport.
The first car to be used on the skid pan, was a Mk1 Escort, painted yellow and black (the only paint in his shed at he time!) The fleet!! was added too in 1981 by a Ford Anglia 105E and an Austin Farina. Over the early years Vauxhall Viva's (9 volt nightmares) have also been used. However since 1984 Skid Control was using mainly Ford cars. In 2005, this run was halted when two BMW 5 Series were purchased to operate some dynamic courses at Dunsfold (Lady race driver courses), and then also 3 series at Goodwood, with Ford Sierras used prior to these.
Not only had Colin been running Skid Control since 1979 but he also worked for many vehicle manufacturers in track demonstration work and road 'Arrive & Drive' events, Ferrari, Aston Martin, Porsche, Nissan, Volvo (he helped launch the Volvo T5) and Honda to name but a few. Also in 1987 when the Association of Racing Drivers Schools (ARDS) was started in conjunction with, then, the RAC Motor Sports Association, now the MSA, Colin was employed on a freelance basis by the Peter Gethin Driving School as their senior instructor. He held an ARDS "S" grade instructors licence and as well as assessing people for their Nat "B" race licence he ran a one day (NVQ style) training and assessment course for people who wanted to become ARDS instructors (in association with Mithril Racing at Goodwood). The ARDS track licence for race driver assessments is now held by Mithril Racing, itself started in the 80's as a corporate event business. (Since writing this Mithril have themselves now ceased trading and left Goodwood, another sad loss to the road and track scene)
Although Colin has not had an extensive racing career he has raced single seaters, sports cars & saloon cars periodically from 1974 until 1995. The most exciting race car he has driven (sadly only giving hot laps, for three years, around the major UK circuits) was a Le Mans Porsche 962 race car. This car held the speed record for the Mulsanne straight prior to the chicanes being installed at 285 mph on the speed trap. The top speed Colin was timed at was down the Hanger straight at Silverstone, pre-remodeling of the circuit, at 175 mph. Had to keep speed down as carrying a paying passenger - Ho Ho. An experience not to be missed. However Aston Martin rank high in his list of the most favourite road car he has ever driven and demonstrated.
Other activities he (Colin) got involved in and ran along or with his team as required:
Organising and running for two years the Guardian motor show. This involved setting up arrive and drive for the many cars provided and displayed by manufacturers and local sales outlets.
Helping the film crew shooting the track scenes for the film 'Dance with a Stranger'. The story of Ruth Ellis, the last woman to be executed in he UK.
Assisting on track day and events organised by Goodwood for notable guests.
Working for Aston Martin at Gaydon and Millbrook. Training new owners and demonstrating the products.
Colin traveled all over the UK and to some European venues with manufacturers demonstrating their products
He also for a time went back to his catering roots and in association with the specialist driving school bought a DD bus and converted it for hospitality. (see photo lower down). Used for private and sporting events.
Below are some pictorial moments from the Skid Control archive and a few from Colin's own photo memories.
DURING THE 1980's
Although Skid Control had a slow start it was enthusiastically supported by IAM driving groups one of the first being the Chichester group. Very soon many other groups started to send down members:- Worthing, Brighton, IOW, Guildford, London, to name a few. Other activities and roles taken on by Skid Control and Colin were: Organising the marshals on circuit. Colin set up a small team of marshals who's expertise was sold through the circuit office. Other activities:- involvement with the film 'Dance with a Stranger' all the race sequences were shot at Goodwood and Colin supplied a number of extras and helped to co-ordinate and set up of the track scenes. He also ran the on site logistics and staff for the Guardian Newspaper motor shows run on two consecutive years. Plus organised the running of varies motor circuit charity days. He coordinated the Woodcote Motor Racing School, Sponsored by a local garage, with two ex-Willhire Capri's and a couple of FF1600 single seaters also a race prepared xr2 Fiesta Challenge car (quite a hot little number!). Colin demonstrated the new (then) DeLorean car by giving hot laps around Goodwood (this for City Garage in Chichester) These are just some of the things that kept the 80's an interesting period in Skid Control's development and kept Colin busy.
DURING THE 1990's to the new millennium
This was again a very busy decade for both Colin and Skid Control. The business really picked up with groups from businesses, social groups and individuals. Also Colin was heavily involved in circuit work with PGDC (racing school) and then Drive Safe. Demonstrating cars and training was a very large part of Colin's work for the major part of the 90's. With the reforming of Goodwood ready for the Revival meetings Skid Control remained in business and evolved with the new infrastructure moving into the new millennium with a very diverse customer base. Including Sussex Fire & Rescue, West Sussex NHS Trust Ambulance Service (now SECAMB), WSCC Young Driver Initiative, Dept for Transport, IAM Fleet, numerous IAM Groups and RoSPA better driving groups. Also, for a time until they moved out, providing dynamic training on location at Dunsfold for Formula Woman. He (Colin) also spent one year training Hendon Police driving instructors track craft -- gosh that was exciting!! fantastic drivers.
2006 onwards
Colin concentrates on the admin side of the business now. His team of trainers (as of 2011) Richard Haines, Kevin Crowley, Gavin House, Tony Stevens. All contribute to the continued and successful running of the practical side of the business.
October 2015
Sadly Goodwood has suddenly decided to change tact and the school (Skid Control) is not wanted anymore on site. Goodwood have decided to run fun event structured sessions under sponsorship from BMW. This will involve drifting and circuit drives plus some off road activity!!
January 2015 ---
Skid control has to change tact. From now on its primary role will be to deliver, through Colin a consultancy package. This will be on demand and structured to suit the clients needs
Skid control as a trading name will disappear but hopefully Colin will be able to use his many years of experience in the automotive world
THE VERY BEGINNING !
| | | |
| --- | --- | --- |
| | | |
| 1979/80 the first operational winter | Aquaplaning (snow has melted!!) | Under control 'skid control' of course |
| | | |
| --- | --- | --- |
| | | |
| Very wet pit lane 80's | 90's Colin testing his Single seater. Designed and built by him with generous help from R Sayers and W Perrott. | One of the vehicles used by the Woodcote Motor Racing school run by Colin through Skid Control in the mid 80's |
| | | |
| --- | --- | --- |
| | | |
| Goodwood circuit tunnel 1989 | Old Skid School portacabin (now no more) | Skid Control 'fleet' early 90's |
| | | |
| --- | --- | --- |
| | | |
| Guardian Motor show, track view, mid 80's. co-organiser Colin. | The team that made the motor show (1985 & 1986) happen. The logistics and running of the show over a three day period by Colin Wells, Skid Control | A young looking JP helping on a charity day organised by Skid Control. He (JP) gave hot laps in a Willhire race prepared Capri. (Colin stood by car door) |
Colin was also involved in the shooting of the race scenes for the film 'Dance with a Stranger' (Ruth Ellis story) but due to publicity rules at the time no photos available
| | | |
| --- | --- | --- |
| | | |
| Mithril & Skid Control on joint Corporate event for Southern Radio | Colin hanging on !!! | More training to be had |
2000 and onwards
The new millennium has seen the need to adapt and diversify. Colin still assessed for the ARDS scheme and would still train new ARDS instructors. On the Skid Control front the business now undertakes trailer courses, close protection driver training, fleet training as well as all the usual anti-skid tuition as in previous years.
More action shots
| | |
| --- | --- |
| | |
| Sierra in action | Whoops!! WSCC Young Driver training |
| | |
| --- | --- |
| | |
| Trailer course in Reading 2004 | (Vehicle dynamics) BMW in action at Dunsfold for Formula Woman 2005 |
Colin in action during the late 80's & 90's
| | | |
| --- | --- | --- |
| | | |
| Colin giving another 'Hot ride' (the Le Mans Experience) | Birkett winner (team work) | Colin teaching client (Goodwood ) |
| | | |
| Taking an Aston up the hill 'Festival of Speed' Goodwood 1994 - Colin with passenger (from Ferrari!!) | Snow at Oulton Park no driving that day | Formula Ford @ Knockhill 1988 |
| | |
| --- | --- |
| | |
| Locations catering hospitality bus operated by Colin & Skid Control in the early 90's. Venues such as Silverstone GP, rugby matches, corporate events, etc. Colin initially started work in the catering trade after attending the College of Arts and Technology (in Cambridge) A catering course in late 60's | Colin Relaxing before driving up the hill in a factory Aston Martin at first Festival of Speed. This was repeated for the next two years. Colin worked for Aston Martin for number of years demonstrating for AM and teaching Aston customers at many different venues in UK inc Millbrook and also abroad |
Photo taken at Goodwood (old pit lane)

Le Mans Porsche 962 driven by Colin in the mid 90's around Silverstone, Goodwood, Thruxton, Donington giving hot rides, it was called the 'Le Mans experience'. The driving was shared by good friend. This car held the record for the fastest Le Mans car down the Mulsanne Straight (pre chicanes) at 285mph, then owned by a French race team. Also driven occasionally, on track days, by Derek Bell and Richard Attwell.
Skid Control was still going strong into the 21st century and hopefully can now continue (circa 2014) to give first rate tuition at the consultancy level (see end story!)
From 2001
| | |
| --- | --- |
| | |
| Dramatic under steer situation (front wheel skid) | The wet pan surface still going strong |
| | |
| BMW 3 Series outside the briefing hut | One of the trainers delivering a briefing |
Clients included:-
Dept for Transport (Transec), West Sussex County Council, Goodwood Road Race Company Ltd, Fleet IAM (Chiswick)
BP & Shell (driver development), Mithril Racing, Sussex Fire & Rescue, Sussex NHS Ambulance service (SECAMB)
Many southern based IAM & RoSPA advanced driving groups, Single make and track day clubs
Driving schools & Fleet operators. As well as individual members of the public who travel to us from all parts of the UK and abroad
October 2014 and onwards
END OF AN ERA & A NEW BEGINNING
"All weather driving school established in 1979 has to cease trading"
Skid Control was based at the Historic Goodwood Motor Circuit in Sussex since the winter of 1979 but has now had to close down and terminate its delivery of first class tuition. The Goodwood Road and Race Company, who administer the site, are no longer requiring this service. Skid Control had for 35 years been delivering much needed safe and professional training, all at reasonable cost. Its client base over these years has included the: Emergency services, council training schemes, adult education, IAM and RoSPA advance driving groups, fleet operators, driving schools and members of the driving public, to list a few.
HOWEVER...............
.................Colin Wells who has run the business for many years will now be happy to operate on a consultancy basis for companies and other schools who would like to have the benefit of his knowledge and experience.
Please Contact Colin if you have any questions. As of 2016 he sold the rights on to a former colleague
Picture Colin now - AKA the Amberley Bodger
and current activities!
(sometimes known as the 'Grumpy old man in a hat')....
....Particularly since Skid Control, the specialist driving school, he established 35 years ago has had to cease trading.
Colin is now heavily involved with the world of traditional woodcraft! His interest with wood has always been with him since leaving school. It was for most of his life a hobby but he has had many other jobs and ran other businesses to earn a crust! Still has a small business importing wine from a friends winery in the Algarve and selling it on the internet to British fans of the unique wine.
However from 2001 he was already interested in using green wood and working it in a traditional way. This is why, as he has more time on his hands, he volunteers at the Amberley Museum and Heritage centre near Arundel in West Sussex, demonstrating and teaching. Details on main site (www.greenwoodworker.co.uk). The wine he imports from Portugal (www.wells-wines.com). He has a MCA skippers licence and runs public trips and charters volunteering with the Wey and Arun Trust skippering their narrow boats at Loxwood. So keeping very busy.
Quite a change in pace from fast cars to pole lathes, but very satisfying !!
Press back to return to previous page